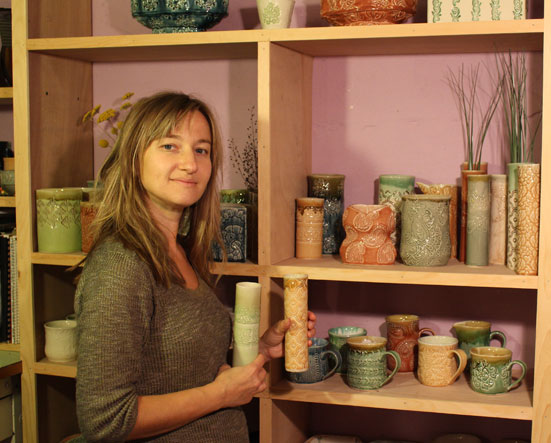 About
Jen received her Bachelors of Fine Arts (BFA) with a Concentration in Ceramics from the State University of New Paltz in 2001. She focused on making functional ceramics both on the potters wheel and hand built. Upon graduation, she set up her own studio and began to explore her interests in gardening as well. This led to creating containers for plants, both indoor houseplants as well as outdoor container gardens using terracotta clay. She sold her work regularly at craft shows, local galleries, and online.
In 2007, she left her full time job to more fully immerse herself in her work.  She made the switch from terracotta clay to stoneware clay. This allowed for a more durable and food safe clay. Using a white clay now instead of a red terracotta clay allowed for brighter and cleaner colors. This led to countless glaze tests to find the right fit and palette. She makes all of her own glazes from time-tested recipes.
She handles all the marketing, advertising, and accounting for her business, a one-woman organization. Aside from her logo design, all of the materials for her ceramics business was managed by her, from customer communication to website design to print materials. She photographs all of her own ceramic work, as well as other subjects such as plant life, animals, nature, and portraiture.
In 2013, she enrolled in the State University of New York at Ulster County Community College to pursue an Associates Degree in Advertising Design and Graphics Technology. She is exploring print and web design, as well as video and commercial photography.